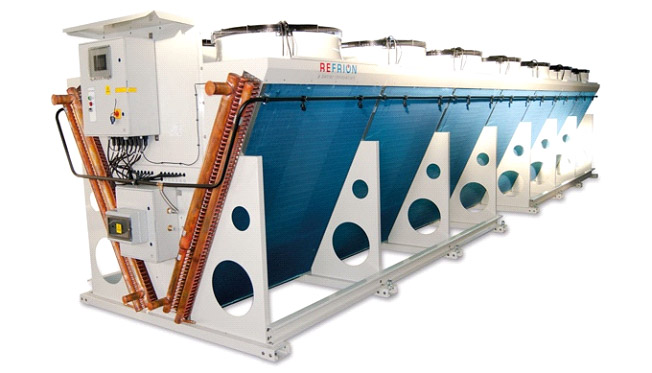 CAPPA cooling is an authorized distributor of Refrion air cooled products for industrial use. Refrion is the leading European manufacturer of dry and adiabatic coolers and condensers. Refrion is dynamically growing company that is challenging on daily basis various issues and extreme conditions and therefore reliable supplier for demanding industrial projects. Thanks to operational flexibility and technical know-how, we offer solutions that maximize efficiency and energy savings.
We provide the optimal selection and delivery of dry coolers, adiabatic coolers and air-cooled condensers in all possible modifications. Coolers are manufactured with respect to all necessary European norms, directives and in accordance with energy efficiency requirements and labeled with Eurovent certified performance certification. Refrion can certify the units' performance as well under the exact operating conditions defined by the customer due to testing in unique climatic chamber even for heavy duty liquid coolers.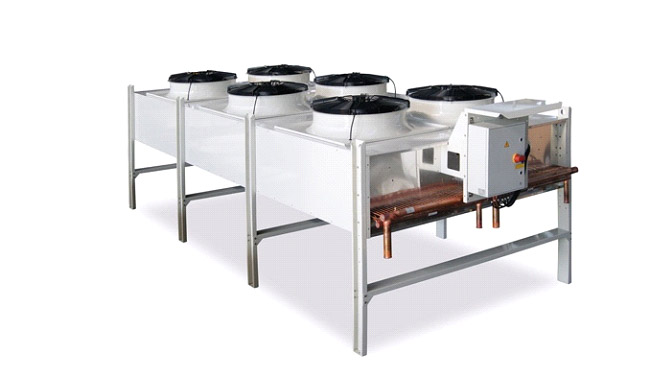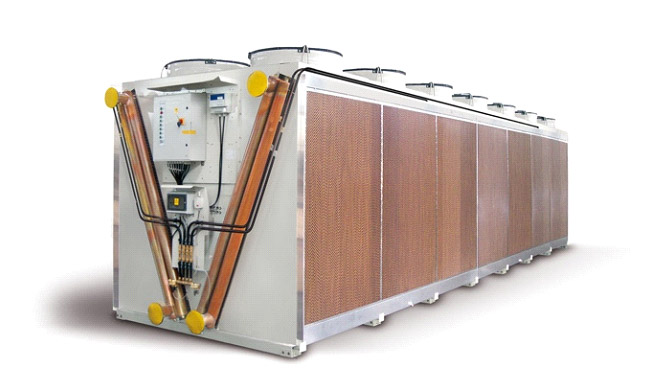 All dry and hybrid coolers are produced in various sizes, shapes and materials with dimensions fitting optimized shipping and easy installation and safe operation. Installation and maintenance is provided by our local partners or can be executed by the client or contractor. All products are built with modular components in hot-dip galvanized steel, powder coated in different colors (std: RAL 9002) and corrosion resistant. The curves are protected by a safety panel fastened to the structure. The fastening elements are all in stainless steel.
Oval tube technology
The oval shape of the tubes, inserted in our Dry Cooler batteries, reduces friction and the resultant loss in air pressure. This means more air, less stress on the fans, less noise and improved yield.
Industrial adiabatic system
Device for humidifying the intake air through adiabatic panels increasing the unit performance. PADS panel for water distribution, electrical regulation, system drainage, safety thermostat and humidity control.
Innovative E-Cooler
Designed to meet the increasing demand for free-cooling applications, optimized benefits coming from the adiabatic saturation of the air adopting a water recirculation system and electronically commutated large-diameter fans.
Alongside wide range of finished products we respond to all customer requirements by developing customized solutions that address the most diverse issues and the harshest conditions of use.