CONSULTING
We are open to provide you with advice and help you to:
In many cases consulting us precedes any commercial or technical decision; in any case any inquiry is answered rapidly and taken seriously because we believe a professional and honest answer is highly appreciated by our customers.
CAPPA cooling provides together with its partners project consulting and delivery of complementary equipment and accessories for wet and dry cooling:
MAJOR SPARE PARTS
Delivery and installation of basic components such as cooling fill, drift eliminators, louvers, motors, fans including special low-noise fans, nozzles, water d istribution piping, fan stacks etc.
CONTROL UNITS, ELECTRICAL CABINETS, I & C DESIGN AND IMPLEMENTATION
Delivery of other accessories like electric heaters, water level controls, vibration switches, make-up water valves, etc.
WATER TREATMENT
Automatic dosing stations, filtration units, by-pass water pumps.
STEEL CONSTRUCTIONS AND SPECIAL SKIDS
From design to delivery including static calculations tailor made to requirements or based on third party design.
FRP SERVICE PLATFORMS AND LADDERS
Design and engineering of FRP constructions for industry with focus on cooling towers. We provide 2D and 3D design of customized solutions for your plant along with the installation.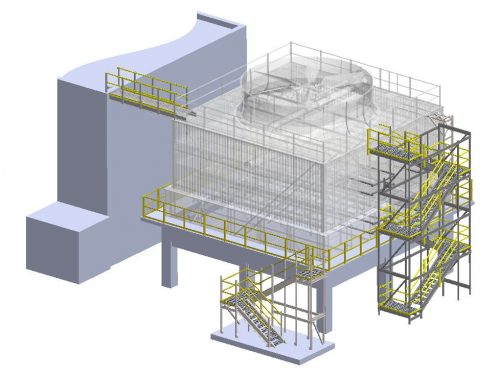 CAPPA provides through the network of its service partners in Central Europe:
REFURBISHMENTS
Exchange of all necessary components and repairs of cooling towers with special attention to improvement of performance for optimal operation and minimizing maint enance costs.
RETROFITS
Upgrades and modernizations of obsolete cooling towers Client's advantage by retrofit solutions lies in that we adjust new cooling towers to existing concrete basins, thereby saving our customer's time, effort, and expense. Moreover, when a customer must keep production downtime to a minimum, we can design and erect the new cooling tower as modules near the operating one, and at the appointed time, remove the old cooling tower and position the new one inside the basin.